Buster Tetsuo (バスター・テツオ Basutā Tetsuo) is the leader of Ikki Uchikowashi.
Appearance
Edit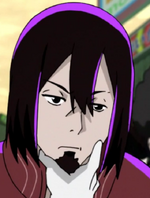 In
Ever Felt Cheated?
, Tetsuo has chin length brown hair and goatee, however, this is a disguise and the hair is a wig and the face is silicon.
Personality
Edit
Part 1: Neo-Saitama in Flames
Edit
At the Treasonersville
Edit
Ever Felt Cheated?
Edit
He talks unmasked to Naraki during a protest, in which Naraki was unaware of who he was. He told Naraki he is an alumni of Neo-Saitama 1st University and after he graduated he couldn't find a job
Neo-Saitama in Flames (anime only cameo)
Edit
He was with Amnesia while the Soukaiya buildings burned.
Part 2: Kyoto: Hell on Earth
Edit
Bigger Cages, Longer Chains
Edit
Kyoto: Hell on Earth
Edit
Part 3: Ninja Slayer Never Dies
Edit
Death Trap, Suicide Rap
Edit
Powers & Abilities
Edit
Relationships
Edit
Ad blocker interference detected!
Wikia is a free-to-use site that makes money from advertising. We have a modified experience for viewers using ad blockers

Wikia is not accessible if you've made further modifications. Remove the custom ad blocker rule(s) and the page will load as expected.